by

internewskosova |

Comments off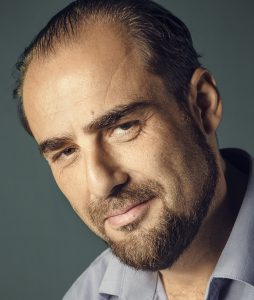 Currently, Faik Ispahiu is the Executive Director of Internews Kosova.
He holds a degree in directing for Television, Film, Radio, and Theatre. Ispahiu has 21 years of experience (since 1997), in managerial, supervisory, training, professional journalism support, and development of free and independent media in Kosovo and in the Balkan region.
Faik Ispahiu is the director and executive producer of the utmost watched Internews Kosova and BIRN produced TV debates "Jeta ne Kosove", "Drejtesia ne Kosove" as well as the debates "TEMA" – the first TV debate series, that focuses on the dialogue process between Kosovo and Serbia, broadcasted in Kosovo, Serbia and other TV stations in the Balkan region.
He is also the founder of Krypometer, the fact-finding mechanism of Internews Kosovo and BIRN, which is also a member of the International Fact-Finding Network – IFCN.
Founder of the online platform for reporting corruption in Kosovo www.KALLXO.com, which enables citizens to report cases of corruption, conflict of interest of public officials. Ispahiu was a member of the team that established the online media www.gazetajnk.com known as a leader in research reporting in Kosovo.
Ispahiu is specialised in providing training with a special focus on electronic media, management, and marketing, TV production, as well as the development of commercial media strategy in Kosovo. He also leads BIRN's court monitoring project and has conducted a series of TV debates on the BIRN-produced municipal elections for RTK.
Ispahiu has worked for a number of organizations, including IREX Kosovo, ICRC, and was one of the founding members of the establishing team of the Kohavision TV station. He founded and managed the first Network of Post-War Inter-Ethnic Radio Stations, CERPIK, as well as the Kosovo Terrestrial Telecommunication Network – KTTN.
Ispahiu was also in charge of launching and managing the initial three editions of the 'Kosova InFest' International Theatre Festival in Prishtina. He is known as a controversial, courageous, and innovative theatre director.
His interests lie in fighting corruption, fact-checking, and theatre.